Offer an Outdoor Meditation Space
In addition to the granite stupa housing relics of Shamar Rinpoche, the Sukhavati Garden located behind the Institute is home to various spaces:
Eight golden stupas commemorating the great moments of the Buddha's life.
Two Nepalese style stupas in honor of Gendün Rinpoche and Lama Purtse.
A large prayer wheel.
These practice supports will survive the ages and bring benefit to all, Buddhists or not, who come to circumambulate them and make positive aspiration wishes.
Contributing to this project is participating in spreading peace and harmony by encouraging inner observation and an altruistic state of mind.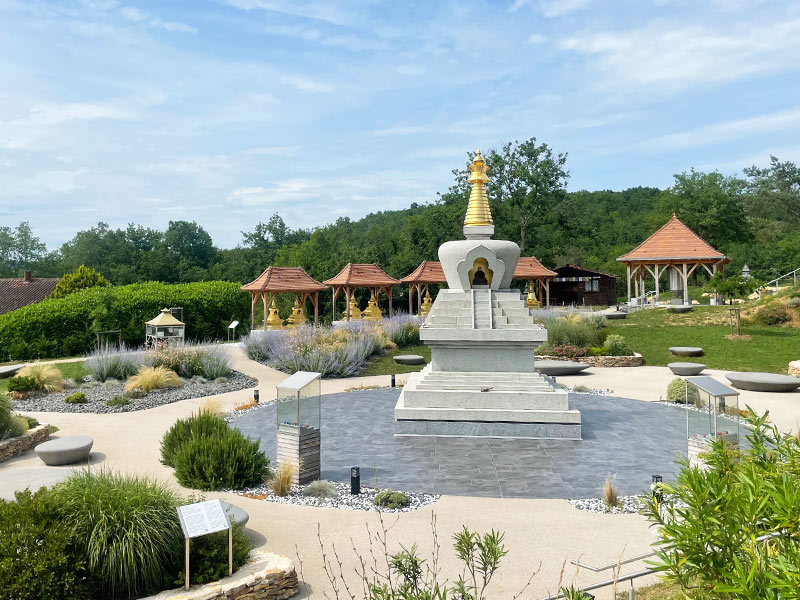 Latest news about the project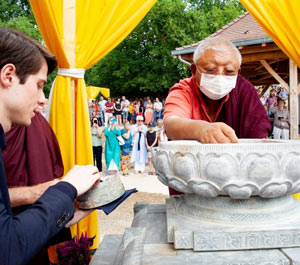 August 15th 2022
Consecration of the two stone stupas (fotos et live videos)
A day of homage and rejoicing in the inspiring presence of Lama Jigme Rinpoche, Guendune Rinchen, Lama Jampa Thaye and numerous practitioners gathered at Dhagpo to commemorate the 25th anniversary of Lama Guendune Rinpoche's parinirvana.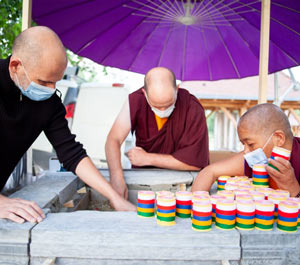 August 11th 2022
Filling the last two stone stupas
The bases of the two stone stupas, recently arrived from Nepal, are filled in the early hours of the morning after sojong vows have been taken. Practitioners who have come to attend this stage accompany the preparations by meditating in the Sukhavati garden. To close, we recite Samantabhadra's King of Aspiration Prayers. The bases are ready for August 15!
Sukhavati Garden
Shamarpa's Stupa
Support: Take Part in Beneficial Activities