"Each of us has obtained a human existence. Its purpose is to enter the doorway of the Dharma and for this it is necessary for our minds to turn toward the Dharma. In order for our minds to turn toward the Dharma, it is necessary to know the qualities of the three jewels and to develop convinced trust in them. This trust will not appear so long as we do not keep death and impermanence in mind. This is why we must begin by familiarizing ourselves with the impermanent nature of all things. The reminder of impermanence is born from understanding that it is difficult to find a human existence endowed with freedoms and wealths. The four common preliminary practices are the roots of practice." (Translation of the prologue of The Torch of Certain Meaning by Jamgön Kongtrül Lodrö Thaye). Over the course of these four days, Jamgön Kongtrül Rinpoche will introduce us to this work composed by his predecessor.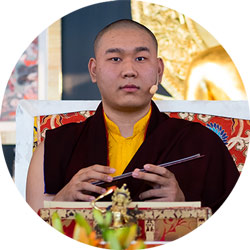 Jamgön Kongtrul Rinpoche, born in 1995, was recognized by Thaye Dorje, His Holiness the 17th Gyalwa Karmapa, as the fourth reincarnation of the Kongtrüls. From the age of four, he began to study and memorize the rituals of his tradition. At fourteen years old, he began his studies of the great Buddhist texts on philosophy and epistemology at Sakya College in Deradun, India. On October 31, 2018, Jamgön Kongtrul Rinpoche entered into a three-year retreat in Parping, Nepal. He concluded this retreat on May 4, 2022. During this period, he received and practiced numerous vajrayana transmissions, primarily of the Karma Kagyü lineage. Furthermore, he received the transmissions and oral instructions on Mahamudra. Kongtrül RInpoche is an important figure in the Kagyü lineage. Today, at twenty-seven years old, he is beginning to deploy a vast activity of teaching the Buddha Dharma following the directives of Thaye Dorje, His Holiness the 17th Gyalwa Karmapa.
Important
Jamgön Kongtrül Rinpoche will transmit the Dorje Sempa empowerment on Saturday afternoon, October 7.
Having taken refuge is a prerequisite.
Information
• Course Begins: Friday, October 6 at 10 am
• The teaching is given in Tibetan and translated in French. For other languages, see Registration Information